Become a SSI Pro
Started in 1970, SSI has expanded to include more than 30 Service Centers, is represented in more than 110 countries with over 2,800 International locations, and has materials printed in more than 30 languages. SSI is an internationally-recognized training agency, so there are thousands of job opportunities worldwide for SSI Professionals. (Source: SSI)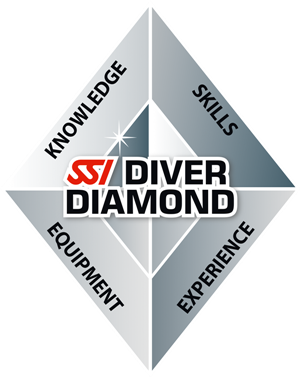 High-quality instruction is what sets SSI apart from the other dive organizations.
SSI programs provide an underwater experience that brings people together as they learn the value of communication and cooperation, both above and below the surface. The SSI range of programs is one of the most effectively designed and thoroughly tested diver education systems in the world. There are four distinct components to becoming a diver — proper knowledge, skills, equipment and experience. SSI calls this the SSI Diver Diamond.
On the SSI website you can easily find job opportunities for SSI dive instructors for free and without login. You can only teach SSI courses / certify students through a SSI dive shop.
When teaching SSI courses you are quite flexible (up to 20%) when it comes to shifting skills, number of times you practice in the water and repeat skills and more personal style and recommendations. This means you can adapt your training to individual needs, your personal experience and local conditions. This is why dive instructors from other dive organizations often sign-up for an instructor crossover to SSI.
As a SSI Professional you can collect 'experience points' which are a symbol of recognition in the SSI business industry. From SSI Century 100 Instructor to Platinum Pro 5000 Instructor, there are various cards to collect to boost your dive resume and attract students.
SSI is a big player in the freediving market. Often SSI Freediving Instructors also become SSI Dive Instructors and the other way around. As the number of freedivers (apnea / breath-hold diving) is growing around the world, the need for freediving professionals is following its rise.
The SSI technical diving, called the SSI extended range, consist of a large variety of specialty programs, trimix courses, full cave and technical wreck diving and rebreather courses.
SSI offers free online learning, your study materials. You do not need to buy a theory book. With the evolution of digital learning, SSI has effectively mastered the uses of technology to strengthen your learning experience, anytime and anywhere.
Did you know SSI also offers swimming, lifeguard and mermaid courses? From baby swimming to model mermaid, there are many other add-ons as a SSI Dive Instructor.